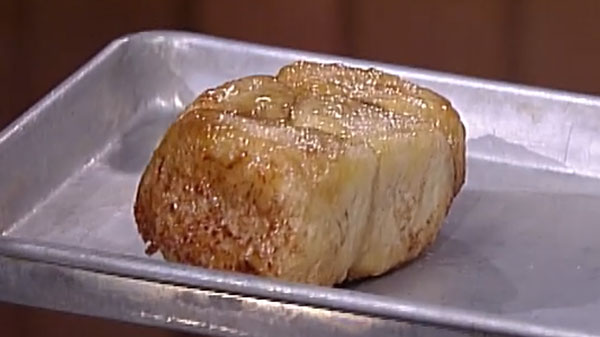 Basic Semolina Dough
Ingredients
2 C. Hot tap water
1 Tbsp sugar
1 tsp salt
1/4 cup olive oil
2 cups Semolina Flour
2-3 cups all purpose flour
1 packet Red Star Platinum Yeast (instant)
Directions
In a mixing bowl, combine hot water with sugar and salt, mix to dissolve. Then add olive oil, 2 C. Semolina flour, and 2 Cups all purpose flour. Now add 1 packet yeast on top of flour, and mix all together with a gloved hand until dissolved, adding enough all purpose flour to bring together into a nice ball. When all combined, dump onto a floured board and kneed for 5-10 minutes to develop gluten. Place dough in an oiled bowl, cover with plastic wrap and let rise for at least 2 hours.
Monkey Bread
Use fresh or frozen dough: 1 portion
Divide into 12-14 pieces, cutting as you go…(golf ball size)
Dip each piece into melted butter and then into cinnamon sugar mix.
Place in a grease 9x9 pan, let rise at least till the rolls are even with the top of the pan, then bake in a preheated 375 degree oven for 15-20 minutes.
Cinnamon rolls
Use fresh or frozen dough colon one portion. Roll out dough as thin as possible. Spread with butter and sprinkle with cinnamon and sugar (nuts and raisins optional.) Then roll up like a carpet, crimping the end to seal. Slice into 4-6 portions. Place in 9 by 9 pan, let rise at least until the roles are even with the top of the pan and bake in a preheated oven for 20 minutes. Let cool few minutes and cover with icing.
Icing For Cinnamon Rolls
Ingredients
powdered sugar
hot water
butter - melted
vanilla
orange or lemon zest optional
Directions
For 2 cups sugar use ¼ cup melted butter and just enough hot water to combine. Add half tsp vanilla. If you like the lemon or orange zest, use a zester to add to taste about 1 tablespoon.