Teacher Guide - The St. Joseph River Suite
T
hen,
N
ow And
A
lways...
---
T

he

S

t.

J

oseph

R

iver

S

tory
A PBS - Michiana Special Documentary
Teacher's Guide

The instructional kit for Then, Now and Always... The St. Joseph River Story is designed primarily for elementary school students in Indiana and Michigan engaged in the study of their state. The kit includes a one-hour video about the people, history, and life along this storied river from Hillsdale, Michigan through South Bend, Indiana and northward into Lake Michigan. The video shows how the river has shaped the region and continues to be an integral part of communities in both Michigan and Indiana. The documentary is intended, in part, to accelerate a renewed appreciation of the St. Joseph River and to encourage people to cherish the river and preserve it as a resource for future generations. This teacher's guide is designed to be used in association with the video.
Teacher's Guide
You can download the Study Guide PDF below: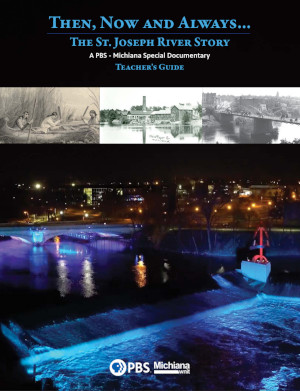 The Documentary Video
Full Documentary Download
Download 1080p (1.8 GB) Download 720p (439 MB) Watch Online

DVD versions of the documentary are available by contacting PBS Michiana - WNIT at (574)675-9648.
If you would like to sponsor this project, please contact Greg Giczi, President and General Manager of PBS Michiana - WNIT at ggiczi@wnit.org
Activities
Activity Four: The Potawatomi




Activity Seven: The Indian Removal Act




Activity Ten: A Story Worth Telling