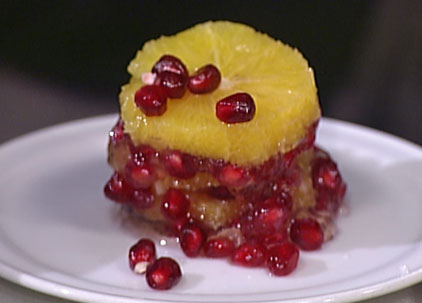 Ingredients
1/2 bottle Asti Spumante (750ml)
1 envelope of unflavored geletin
1 T. fresh orange zest
1/3 cup water
1/8 cup sugar
4 oranges
1 cup fresh pomegranate Arils
Directions
Pour Astil into a large bowl, add orange zest, and sprinkle gelatin into the wine. Then combine water and sugar in a small sauce pan. Heat to dissolve the sugar. Pour over the wine, gelatin mixture and stir well to combine. While the mixture cools, cut the peel and pitch off the oranges and cut into thin slices (1/4 or less thick). Alternate layers of oranges and pomegranate into jelly jars (suggested: 4oz jars). Once the jars are filled, pour it over the wine mixture to fill the jars and place on covers. Refrigerate for at least 6 hours or overnight until chilled.
Makes 8 servings.
When ready to serve, you can serve in jars or run a warm knife around the jar and unmold onto a plate.
---
What do you think? Leave your comments below or you can go back home.