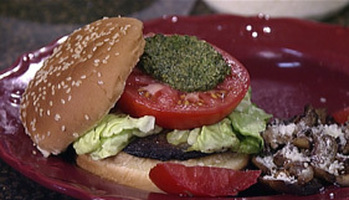 Pesto
3 oz. pine nuts, toasted and cooled
1 1/2 cups firmly packed fresh basil leaves
1/2 cup Italian parsley
1/2 cup grated Parmesan cheese
1 minced clove of garlic
1/4 cup olive oil
salt to taste
Place all items except oil in a food processor and pulse until it forms a paste. Add olive oil gradually and pulse until it forms a buttery consistency. Cover with plastic wrap or put a thin layer of olive oil on top to store in refrigerator.
Port-a-Burger Ingredients
4 portabella mushroom caps
3 shallots, thinly sliced
1 clove of minced garlic
1/4 cup olive oil
2 tbsp. Parmesan cheese
1/2 cup pesto
buns, lettuce, tomato
Directions
Sauté the shallots and garlic in the olive oil until opaque. Remove the shallots from oil and brush the flavored oil on the mushroom caps and grill for 3-5 minutes on each side. Sprinkle with cheese and grill for another 2 minutes. Serve on the buns, layering with pesto, lettuce, shallots, and tomato slices. Serves four.