Dinner & A Book: Heat
The video is currently unavailable at this time.
About This Episode
Episode #701 - Heat by Bill Buford
Did you ever wonder what it would be like to train in a celebrity chef's kitchen? To experience the journey, join me and my guest, Marshall king of the TRUTH as we follow Bill Buford's quest in this book HEAT and try out some simple Italian recipes.
Original Airdate:

September 8, 2007

Last Re-airdate:

April 14, 2008
In This Episode
THE MENU

Melon and Prosciutto
Buffalo Mozzarella and Tomatoes
Italian pasta with Tomato Sauce with Garlic and Basil
Chocolate Cannoli
Vino Santo and Amaretti Chicken Marsala with Sage
Pasta Fresca
The Book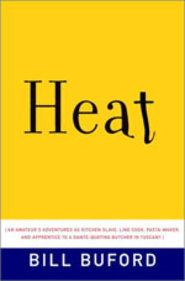 Heat
By Bill Buford