The Lawrence Welk Show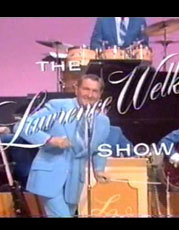 Description
Welk's `champagne music' made for one of TV's most beloved series, first running on ABC from 1955 to 1971, then bubbling along in syndication until 1982. Older viewers in particular embraced his straightforwardly square show, which featured his own band as well as a `family' of regular performers (the most famous being the Lennon Sisters). Some may have poked fun at the stiff, seemingly uncomfortable bandleader, but Welk gave his fans what they wanted and proved to be an enduring TV icon.
Upcoming Episodes
Tribute to Irving Berlin

A salute to Irving Berlin. Included: "Play a Simple Melody," featuring Sandi Griffiths, Gail Ferrell, Mary Lou Metzger and Dick Dale; "Let's Face the Music and Dance," featuring Bobby Burgess and Cissy King; "Annie Get Your Gun"; and "God Bless America," featuring Norma Zimmer. (60 minutes)

| Schedule | Channel | Audio | HD |
| --- | --- | --- | --- |
| | WNIT HDTV 34.1 | | |

See our full program schedule.
Have questions or concerns about this program's schedule? Contact us.