The Lawrence Welk Show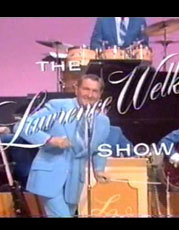 Description
Welk's `champagne music' made for one of TV's most beloved series, first running on ABC from 1955 to 1971, then bubbling along in syndication until 1982. Older viewers in particular embraced his straightforwardly square show, which featured his own band as well as a `family' of regular performers (the most famous being the Lennon Sisters). Some may have poked fun at the stiff, seemingly uncomfortable bandleader, but Welk gave his fans what they wanted and proved to be an enduring TV icon.
Upcoming Episodes
Salute to the Armed Forces

From the Veterans Memorial Museum in Branson, Mo., Jack Imel hosts a salute to America's fighting men and women. Songs include 'How Ya' Gonna Keep 'em Down on the Farm'; 'Alley Cat'; 'Pack up Your Troubles'; and 'Jack Was Every Inch a Sailor.' (60 minutes)

| Schedule | Channel | Audio | HD |
| --- | --- | --- | --- |
| | WNIT HDTV 34.1 | | |

See our full program schedule.
Have questions or concerns about this program's schedule? Contact us.