Dinner & A Book: The Big Oyster: History On The Half Shell
The video is currently unavailable at this time.
About This Episode
Episode #606
Here's a chatty, free-wheeling history of New York City told from the humble perspective of the once copious, eagerly consumed, now decimated eastern oyster (Crassostrea virginicas). Research addict Kurlansky (Cod, etc.) starts from the earliest evidence of Lenape oyster middens, or beds, discovered by explorer Henry Hudson and others as evidence that natives enjoyed the shellfish as a delicacy, much as the Europeans did.
Original Airdate:

July 26, 2008

Last Re-airdate:

July 28, 2008
In This Episode
The Book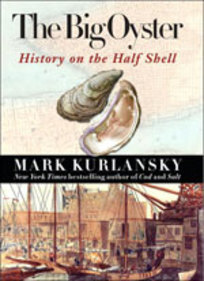 The Big Oyster: History On The Half Shell
By Mark Kurlansky
The Menu
THE MENU

Oyster Fritters
Oyster Pigs in Blankets
Timothy's Miso Asian Painted Oysters