Dinner & A Book: Losing Mum and Pup
The video is currently unavailable at this time.
About This Episode
Episode #909 - Losing Mum and Pup by
This memoir by Christopher Buckley recounts some of the life and a great deal about the deaths of his parents, William F. Buckley, Jr. and Patricia Taylor Buckley, which occurred within 11 months of each other during 2007-2008. It is at times hilarious; moving; and cuttingly sad. But mostly it celebrates their lives and his life with both of them. In the process it gives us some really inside views of Bill Buckley and his famous wife, and adds to our understanding of the human dimensions of this "Godfather" of the right. Anyone who has parents still living, or has gone through the experience of bidding "Adieu" to one's parents, will find much to learn from and identify with in this book.
Original Airdate:

November 7, 2009

Last Re-airdate:

December 22, 2012
In This Episode
THE MENU


Remoulade Sauce
Cheese Torte
Stuffed Eggs
Shrimp Cocktail
The Book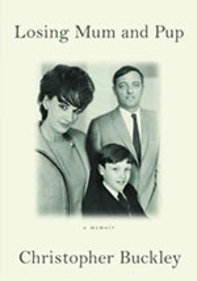 Losing Mum and Pup
By
Find this book on Amazon.