Dinner & A Book
Dinner & A Book - Sherlock Holmes
Episode #1202 - Sherlock Holmes
Hello and welcome to One Book, One Michiana in partnership with the St. Joe County Public Library. Today we'll discuss "The Adventures of Sherlock Holmes" by Sir Arthur Conan Doyle. Stay tuned as Doug Farmwald of the Elkhart Red Cross and I discuss three of the short stories while preparing a 19th century English meal for our famous detective on Dinner and a Book.
Original Airdate: January 12, 2013
The Book
Sherlock Holmes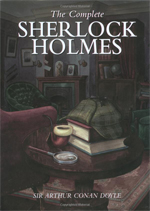 Find this book on Amazon
.
Web Extras
What do you think? Leave your comments below.