Dinner & A Book: Iran Awakening
The video is currently unavailable at this time.
About This Episode
Episode #705 - Iran Awakening by Shirin Ebadi
What are some of the traditional Iranian foods that mothers prepare for their families? Join me and my guest Mana Derakhshani as we discuss Noble prize winning author Shirin Ebadi's book IRAN AWAKENING and learn more about this remarkable author's life on DINNER AND A BOOK.
Original Airdate:

October 6, 2007

Last Re-airdate:

May 5, 2008
In This Episode
THE MENU

Sabzi Khordan
Adas Polo
Mast-o-khiar
Salad shirazi
Borani
Fruit and Tea

Sabzi Khordan can be served as an appetizer in a restaurant but is usually served along with all of the dishes which are all placed on the table at the same time.

Usually dessert in Iran is fruit, not sweet items. You can serve a large platter of grapes, nectarines, melon slices and red and white cherries.

Before the meal begins you say "Nooshe Jan" which means bon appetite.
The Book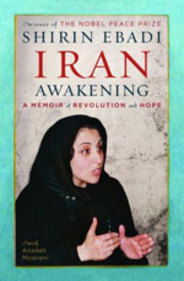 Iran Awakening
By Shirin Ebadi