Dinner & A Book
Dinner & A Book - Inferno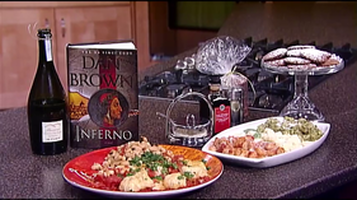 Episode #1304 - Inferno
Please join me and my guest, Linda Lucchesi as prepare a Tuscan menu of medieval food to accompany our journey through Dan Brown's "Inferno."Maybe we will stumble on some outrageous sins committed in the name of literature on this week's Dinner and a Book.

After Angels and Demons, the Da Vinci Code and the Lost Symbol Writer Dan Brown has us flipping pages as we try to compare Dan Brown's "Inferno" with the real Inferno of Italian writer Dante's "Divine Comedy."

Protagonist Harvard symbologist Robert Langdon wakes up in Florentine hospital with a splitting headache and suffering from amnesia. What is he doing in Florence and what just happened. A doctor is shot, and Dr. Sienna Brooks, a beautiful, brainy blond saves Robert's life and sticks by him throughout until the twist at the end. The main tortured genius is geneticist Bertrand Zobrist who believes the Earth is nearing Doomsday population when people will begin to act like the plagued and mad masses from Dante's version of hell in "Inferno" There is much support provided for the argument of overpopulation but how should this problem be solved?. Maybe a new plague?
Original Airdate: January 25, 2014