Dinner & A Book
Dinner & A Book - The Hitchhiker's Guide to the Galaxy
Episode #1812 - The Hitchhiker's Guide to the Galaxy
Note (4/11/2020): This week we're celebrating One Book One Michiana, WNIT's partnership with the St. Joseph County Public Library. Because the event was postponed this year due to COVID-19, we salute the month-long library event by highlighting last year's book. Gail Martin and Doug Farmwald prepare a meal from "The Hitchhiker's Guide to the Galaxy." Douglas Adams' classic novel is front and center in conversation and absurdity. Tune in for a meal which includes Algolian Zylat Burgers and Galactic Pub Nuts to be washed down with a satisfying Pan Galactic Gargle Blaster.
The 2019 One Book One Michiana community book is an indulgence into the inspired lunacy of The Hitchhiker's Guide to the Galaxy by Douglas Adams. Seconds before Earth is demolished to make way for a galactic freeway, Arthur Dent is plucked off the planet by his friend Ford Prefect. Gail Martin is joined by Doug Farmwald for intergalactic food, drink and conversation.
Original Airdate: April 13, 2019
The Book
The Hitchhiker's Guide to the Galaxy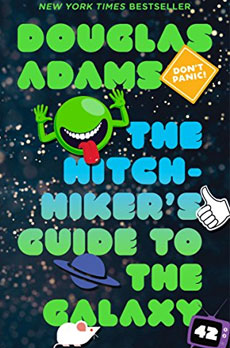 Find this book on Amazon
.
What do you think? Leave your comments below.