Dinner & A Book
Dinner & A Book - Henry V
This video is not available right now. Check again later.
Episode #513 - Henry V
"Henry V" is a play that is associated with the opening of the Globe Theatre which opened in 1559 in London. It is a perfect play for these times because it is a plan about war, politics, history, and propaganda. As a young prince Henry V was wild, wasting much of his youth with bad company. He was Playboy prince. In "Henry V" he is a 25-year old monarch, grown into a warrior, a powerful leader and a brilliant military strategist. The play shows Henry planning and invading France in 1415, ending with the English victory at Agincourt leader, but by the end of Henry's reign, he loses France and makes "his England bleed." In Henry, Shakespeare created a hero for England, and Henry is a mirror of all English kings: he had a clear title to the throne; he had military skill and could deal with the common man.
Original Airdate: March 15, 2005
The Book
Henry V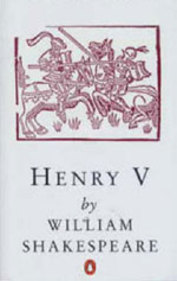 What do you think? Leave your comments below.